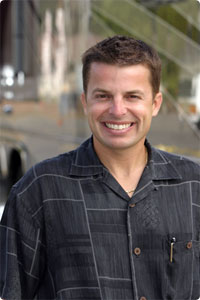 Damon was born and raised in Kailua, Hawaii. Upon graduating from high school he made the typical annual summer vacation trip to Minnesota to spend a few weeks with his grandparents who owned Noon's RV Center.
While on vacation he decided to work for his grandparents as a wash boy. That lasted a few months then he was promoted to a service technician, it was important to his grandparents that he starts from the ground up and learns everything. After working in service Damon then moved into an office and became a warranty claim writer, he did this for a couple of years. While writing warranty claims his grandfather Vernon Noon and Uncle Darrell Noon suggested that he try sales on weekends and the rest is history. Some say it's a 4H project gone bad.
In May of 1997 they acquired the Country Coach make and Damon began to sell those "we had a local dealer that did a great job with the Monaco line so this gave us something in that caliber of coach to compete with". In 1998 Damon was ranked 3rd highest in total volume in the country, 1999 and 2000 Damon was ranked 2nd place, and in 2001 Damon finally won the coveted #1 volume Country Coach salesman in the nation, an award he has achieved 6 consecutive years.
During the fall of 2002 Damon accepted a job at Guaranty RV Center in Junction City, Oregon. Damon remained a top salesman with Guaranty RV through June of 2011. Today Damon works from his home office with an expanded inventory from multiple dealerships, private party examples, and past customers. "Whether you are buying or selling chances are I can find just what you're looking for so please contact me".
Call 612-865-0320 or use my contact form.